This is actually my 4th time at 76Style, 3rd time with Hikki and 1st time at Mont Kiara branch. After Hikky went to Mont Kiara, I haven't had the chance to go there. (I have yet to blog about my previous hair cut but will try to blog back when I have the chance.)
Here is the outside of the 76Style Mont Kiara Branch
The sofa waiting seat at the salon. The sofa is comfortable!!
Hikky and Sato (I think is Sato la) cutting hair.
They serve coffee and tea~
Finally took a photo of their legendary treatment~
This time I decided to cut, perm my hair and touch-up my hair root. Here we go…
My hair before anything. Hikky is "hiding" behind me.
I really trust Hikki with my hair.
This time I decided to but my hair much shorter and also cut my fringe very short. I had to admit that despite trusting Hikki with my hair, my heart still beat quite fast as I really feel unsafe cutting this short. Hikki did not fail me. I love it very much. It is something that I wanted!! I never knew I could carry short fringe and shoulder length hair.
Dun judge my hair. It is not 100% done yet.
Hikki finishing up her initial cut.
Next, perming. The cute guy mixing the chemical to soften my hair.
My fringe is not permed so they did not wrapped it under the plastic.
Time for perming~
Everytime I see this rollers, I really feel funny. It looks like the Egypt sphinx.
As compared to the previous perm which i felt hot, the digital perming this time was so much better. I dun feel heat but it might be because my hair is shorter too.
Removing the hot rollers.
After they remove the roller, they still leave the curls cool before washing my hair again.
My perm is done. Now to dying of hair.
Applied the dye already. Since I am only touching up my roots only.
Last step is the legendary hair treatment. I swear that even until today when I wash my hair, it is still soft. Maybe many people may say that I am crazy to spend this money on this treatment but trust me, this treatment is worth every cents u paid.
Before it was clamped together, it is red.
Once you clamped the hair iron clamps together, it will turned blue.
This is actually not my first time going to 76Style. You can read the previous post here. I like the environment here better than mid-valley one. I am more of a stylist follower so when Hikki changed her working branch here, I also followed her. I personally find that her English seems to be better this time. It might also be I know what I want this time. I told her I want a shoulder length permed hair. I also told her I wanted to try shorter fringe. She understood and took the magazine out and told me which few style she recommend and I told her what I want.
The she start with the hair cutting. I have to admit that after the fringe was cut, I am not satisfied with it. But I was thinking to see how it was style later. After the treatment/hair dye (I can't remember already), Hikki did trim my fringe furthermore and now I love them. Phew, I did not start screaming at them initially.
Many readers did ask me about the treatment. The hair iron resemble the typical strightener but it does not have any heat. When the clippers of hair iron are open, the light will turn to red and when clipping it together the light will turn to blue. Another thing about this hair iron is it produce a soft buzzling sound when the clippers is closed. It feels like some ultra sonic is emitted to your hair. I mentioned many times, I really love how smooth my hair will be after the treatment.
So how is the final look??
.
.
.
.
.
.
.
.
.
.
Took a shot outside of the salon while waiting for cab.
Another shot while I was on coach back to Singapore.
Last shot of me before going to sleep.
So how was it? There are comments that perm don't look nice on short hair but I really like the result. The shorter fringe did make me look younger too. I also shamelessly feel the below photos.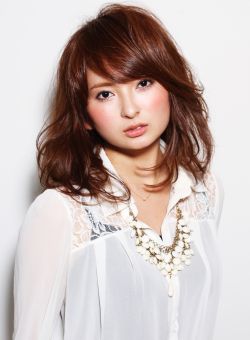 Okay. Now I am embarrassed! Thanks for reading~