Okay. Blogging a super late entry which I am supposed to blog about it weeks ago. I actually took all the photos. I am just a bit lazy and busy to edit them.
If you have read my previous entry about Kanebo Sales. You wouldn't have or want to miss it. The sales is crazy and this is what I call sales. Lunasol palette was like 50% cheaper. I have been wanting to own one but because of my frequent sales purchase. I really accumulate too many to buy them off shelves, hence this sales is a perfect excuse for me to buy them.
https://lh5.googleusercontent.com/-eImI-RtAKu4/TkI3WCBa8EI/AAAAAAAACYw/sJuNMSxQ1qQ/s800/356838748.jpg
By the time we reached, there is already a small crowd there. Can u imagine that I reach at 11 plus only?

Introducing my new beauty kaki, Patricia!~ (Left) and me on the right. We still got the time the cam whore sia…

Our combined haul. Don't be mistaken, Patricia only buy a few. Most of them are mine!~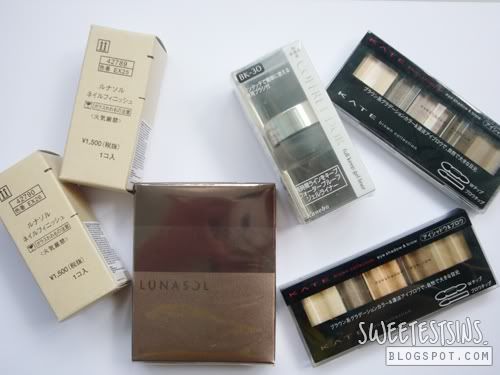 These are her small haul. She really control her buying since she is a student so she got more budget control problem than me.

My 2 bags of haul from the Kanebo sales. I do admit a bit intimidating to a lot of people. But my leechie friend bought a lot more than me. My haul look big as I bought 2 bundle of Kanebo Skincare from Impress and Blanchir Superior as I wanted to try their skincare too.

My humble haul. Not that much right? I told u all le ma. I did exercise small budget control.
Coffret D'or


I got an extra Lunasol item on the extreme right that I missed out from the Lunasol group. I bought 2 eyeshadow palette and 1 eyeliner from Coffret D'or
In case you don't know, they have left Singapore already. Hence, the last collection that they launched is the Summer 2010 collection. (Read more from: Haru's Blog)


Jewelcious Eyes (02: Pink Topaz and 04: Amber Beige)

Coffret D'or full keep gel liner (BK-30)
I initially did wanted to get the C Curve palettes. However, I find their shade not to my liking. I put them back before I went to pay.
Kate


My Kate Haul. I bought slightly more for this because they are really much cheaper. They are even cheaper than Watson sales too.

KATE Reflect Mirror Eyeshadow

Limited edition Diamond Cut Eyes Bk 2 – Dark Diamond

Magical Long Mascara N and Volume Gel Mascara

Brown Collection (BR-1 and BR-4)

Covering Concealer for Under Eyes
Lunasol


Lunasol Aurorized Eyes

I bought 3 palette but only after I went home, I discover that I bought 2 of the same colour. I think the lady gave me the wrong colour.

Nail Polish (EX-26). It freaking cost S$8 only, how can I miss it?
Blanchir Superior


Next Blanchir Superior skincare. I guess skincare is something I will always like to try.
Impress


The Impress set is really very pretty. I really love the white bag. It is actually more of a toilette bag.

See the small details!~ The area is very well made.

The content of the Impress set

I like the travel size. Since I just want to try this range, hence I do not want it to be full sized.

From left to Right, top to bottom: White Returnergy, White Emulsion, White Lotion and Brightening cleansing Sheet.
I will update the prices of the product again.